10 insights to increase fundraising and relevance for nonprofits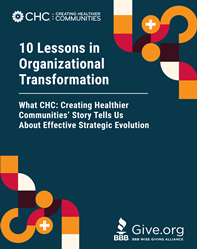 View the full case study at https://chcimpact.org/casestudy/.
ALEXANDRIA, Va. (PRWEB)
March 09, 2023
Today, the BBB Wise Giving Alliance released an independent case study entitled 10 Lessons in Organizational Transformation featuring CHC: Creating Healthier Communities. This new case study provides insights into CHC's successful evolution from a 65-year-old employer that gave a federation to a health justice organization, adopting new strategies and attracting new partners, diversifying revenue and providing relevance, effectiveness and impact increased.
"CHC has undergone a purposeful transformation from a focus on gathering and reallocating resources to bringing groups together to address important issues," said Art Taylor, president and CEO of the BBB Wise Giving Alliance (BBB WGA), which conducted the case study research headed .
In the case study, BBB WGA outlines CHC's multi-year, methodical approach and shares transformation strategies that are particularly relevant to legacy nonprofits that need to rethink their missions to increase fundraising and effectiveness.
"There is a strong and understandable need for self-preservation in many nonprofit organizations. But once we made the decision that self-preservation is not our mission, the Board was free to examine the mission," said Thomas G. Bognanno, CHC's President and CEO, who is retiring. "This change was risky. There was no track record," Bognanno said. "Kevin Clayton always advised me that before we change people's hearts, we must change the culture. Then we had to come up with a solid, defensible business case for the change. And he did."
In just a few short years, CHC has grown from hundreds of thousands of dollars invested in health equity programs to tens of millions, successfully diversifying the organization's work, impact, staff expertise, partners and funding.
"We were servants of mission," said Kevin Clayton, former CHC chairman and SVP and social impact leader for the Cleveland Cavaliers. "We understood what was at stake and we had a vision of where we wanted to go — health equity and underserved communities — we had the goal, but there was no map." Clayton has been a strong voice for during this transition CHC and used its influence to bring people together.
The development of CHC took years and began with a deliberate shift from chronic disease to the social determinants of health, the broader factors affecting health. Then, in 2020, the organization changed its name from Community Health Charities to CHC: Creating Healthier Communities to highlight the evolution of mission and work: creating healthier communities for all people, breaking down barriers to health and equity.
"The journey we have taken has been meaningful and important," said Adam Rothschild, CHC's chief executive officer. "The transition from defining health as chronic disease to the underlying causes of disease was perhaps the most important decision made during the transformation. That was the biggest step because it put us on a different path."
CHC's Board of Directors played a central role throughout the transformation process, sharing expertise, serving on a dedicated Health Equity Committee and collaborating with CHC employees on the strategy and necessary steps.
"CHC has always worked to provide resources to organizations dealing with the greatest health challenges," said Charleeda Redman, board secretary and vice president for strategy integration at Children's Hospital of Philadelphia. "To make a greater impact, CHC would now use its resources and partnerships to advance equity in healthcare."
"It's not enough to have a few healthy people in a sick community," said CHC board member Sandra Nichols. "What I love about CHC: Creating Healthier Communities is that we're not just in the community, we help solve some of the biggest challenges that exist in the community."
To learn more about the case study:

ABOUT CHC: CREATING HEALTHIER COMMUNITIES

CHC: Creating Healthier Communities brings nonprofits, businesses and communities together to improve community health. Our focus is on health equity, addressing underlying issues and removing barriers so everyone can thrive. Our work is driven by the needs of the community, and we direct programs, resources, and support where they will have the greatest impact. Together with partners, we have been creating healthier communities for more than 65 years. Join us at chcimpact.org or @chcimpact.
ABOUT BBB WISE GIVING ALLIANCE:

BBB Wise Giving Alliance (BBB's Give.org) is a standards-based charity evaluator that seeks to validate the credibility of nationally recruiting charities by conducting rigorous assessments based on 20 holistic standards dealing with charity governance, results reporting , finance, fundraising and objection accuracy, and other issues. National charity reports are produced by BBB's Give.org and local charity reports are produced by local Better Business Bureaus – all reports are available on Give.org.
Share the article on social media or via email: