A weekly event to strengthen Jefferson Avenue in Buffalo
Each summer in Buffalo, weekly food truck nights draw hundreds of foodies to the Larkinville neighborhood. Music lovers fill Bidwell Parkway for concerts week after week. Families stroll through the farmers markets in Elmwood Village and the Clinton-Bailey neighborhood.
But none of Buffalo's East Side neighborhoods had a big, celebratory, weekly event. Despite all the attention, Marnetta Malcolm acknowledged the lack of events in the neighborhood and promises to support the East Side after the May 14 racist massacre at Tops on Jefferson Avenue that killed 10 black people, injured three others and traumatized a community. to set up
Malcolm has a plan to change that. She calls it Jefferson Avenue Friday Night Live.
Malcolm, who organizes the annual Buffalo Funk Festival and is vice president of the board of directors at the Ralph Wilson Conservancy, is planning a weekly event at the mall on Jefferson and East Utica Streets, a block north of the Tops supermarket.
"This will be fun," she said. "And that's really what it's all about – a place the community can count on for fun, food and family-friendly entertainment. We'll have great DJs. Food trucks, vendors, information desks."
The plan is to begin on June 2nd and last through August 25th every Friday night from 5:30pm to 9pm.
The event itself is free, but food trucks and vendors sell food and merchandise.
Weekly events in other parts of the city aren't just about entertainment, Malcolm said. They build a community and attract people from other parts of the city. They can also be a place for government agencies and non-profit organizations to share information about their programs.
"I think this part of town deserves it too," Malcolm said.
In the days after the mass shooting in Tops, Malcolm saw firsthand how much people craved a sense of community.
She and a friend set up a booth on Jefferson Avenue and cooked food for the neighborhood. They also gave out ice cream to the neighborhood kids.
"We got the kids out with the ice cream," she said. "The parents brought that out. The parents and everyone was so traumatized."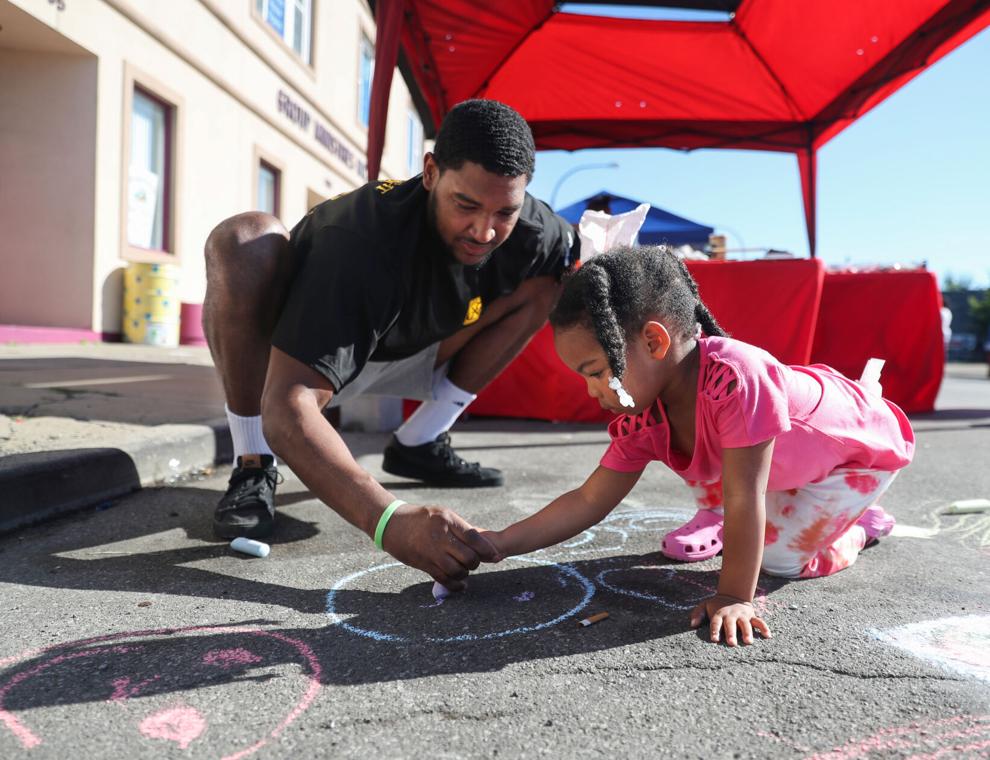 In August, she took her Funk Fest to Jefferson Avenue, where people whose name had become so synonymous with mourning danced in the street. Children drew with chalk on the sidewalks. "We called it the Funky Chalk Walk."
That's the kind of spirit she's hoping to recapture through the Jefferson Avenue Friday Night Live events.
Malcolm spends the spring finding sponsors for the weekly events.
Attorney John Elmore was the first to come forward, she said.
Mark Talley, who founded the non-profit organization Agents for Advocacy after his mother Geraldine Talley was killed in the May 14 massacre, is sponsoring the first Friday Night Live on June 2nd. It just so happens to be the day before his late mother's birthday.
"I think it's needed for the community," Talley said.
Talley agrees it's the type of event that will go down well on Jefferson Avenue.
"You go to the East Side, there's really nothing there other than the Juneteenth Festival.
Buffalo's Juneteenth Festival, held in Martin Luther King Jr. Park, is very popular, but this is a weekend event.
Talley knows some people might be uncomfortable with the idea of ​​a weekly party next to the place where so much tragedy happened last year.
"I'm fine with that," Talley said.
He plans to attend as many Friday events as possible. But he also understands when there are people who might not like it.
"I will not judge others if it will help their grieving process," he said.
He also believes it can be safe.
"It's going to be a beautiful, safe and fun event for people who just want to have fun," he said.
Malcolm said she has DJs scheduled for the summer but is looking for food trucks and vendors who could participate. Visit the Buffalo Funk Fest Foundation Facebook page for more information.