Annual Cops and Campers event for Spruce Row Campground & RV Park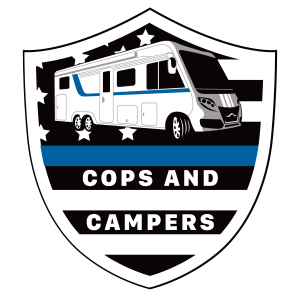 An unexpected encounter inspires the creation of a wellness retreat for first responders.
Ithaca, New York (March 15, 2023) — A new tradition is emerging at Spruce Row Campground & RV Park in Ithaca, New York. On June 23-25, 2023, the park will host the 2nd Annual Police Officer and Camper Wellness Retreat for first responders and their families.
Cops and Campers was founded by retired police officer Eric Reynolds after a disturbing encounter at another campground in 2021. There he was asked to remove a flag waving at his campsite in support of law enforcement. Reynolds, who was shot dead on duty in 2012, suffers from PTSD and has made it his life's mission to help other first responders who are struggling. He and his family travel the country as full-time campers to raise awareness and share their stories with others.
The Cops and Campers Wellness Retreat at Spruce Row Campground & RV Park includes a campfire, socializing, family-friendly movie night, guest speakers, visits from local police departments and live music from local band Tailor Made. The event website www.copsandcampers.com promotes Cops and Campers as an opportunity for first responders and their families to share experiences and build connections in a beautiful and peaceful setting.
According to park owner Scott Sherwood, he was brought into contact with Cops and Campers in 2021 when he read about the Reynolds flag incident. "I saw the story on social media and invited Eric and his family to Spruce Row for a week to stay with us. We had incredible community support and a lot of people stopped by to hear his story," said Sherwood. "Eric came up with the idea for Cops and Campers and since we were the first to reach out to him, he decided to hold the event here."
Reynolds writes on the website, "Bringing the impact of PTSD and the health implications of our work to light can help first responders overcome the stigma that comes with the condition."
During the first Cops and Campers event in 2022, documentary filmmaker Patrick Shaver captured footage for a film produced by Reynolds and Sherwood and available on YouTube.com at https://youtu.be/oGh-cpR5dzs (Cops and Campers Documentary Film) is available. The 32-minute film examines the development of Cops and Campers from the flag incident to the first weekend event, celebrating the personal connections made and featuring interviews with Reynolds, Sherwood and cops and campers in attendance.
In a sit-down interview filmed for the documentary, police officer and camper Dan Bechtold shares what the event means to him. "It's those simple times between chaos that help deal with tragedy or adversity. It's the connection with each other, which is just basic human relationships, and it's just such an important part of this whole thing. It's a time to relax and enjoy the company of people who can relate to where you are."
According to Sherwood, "The Cops and Campers event is aimed at law enforcement and families, but last year emergency services were also involved. All are welcome."
Spruce Row Campground & RV Park is located at 2271 Kraft Road, Ithaca, New York, 14850. For more information about Cops and Campers at Spruce Row Campground & RV Park, visit www.copsandcampers.com and click EVENTS for one Flyer and link to reserve a campsite or rental unit on site for the weekend of June 23-25, 2023.
###
Spruce Row Campground & RV Park is located near Ithaca, New York, in the famous Finger Lakes resort area. The park offers RV sites, tent sites, cabin rentals, and RV rentals on site. Nearby attractions and attractions include Cornell University, the Cayuga Lake Wine Routes and spectacular natural canyons such as Taughannock Falls, Buttermilk Falls and Ithaca Falls. Learn more and book a location at www.sprucerow.com. Spruce Row is a longtime member of the Campground Owners of New York.
Campground owner of New York, founded in 1963, is the trade association representing independent campgrounds and RV sites in New York. Based in Pittsford, CONY provides educational, government affairs and marketing services for campgrounds, including hosting www.CampNewYork.com, a travel planning website, and publishing a print magazine about New York campgrounds.
CONTACT:
Suzanne Hopkins, VP, Marketing and Public Relations
suzanne@campnewyork.com, (585) 586-4360 ext 3
www.campnewyork.com
ADDITIONALLY:
Scott Sherwood, owner
Spruce Row Campground & RV Park, Ithaca, NY
Sprucerow1@gmail.com, (607) 227-9741 (cell)