First MOC-FV mass orchestra event in four years | News
ORANGE CITY—The gym at MOC-Floyd Valley High School swelled to the sound of Tchaikovsky's "1812 Overture," the notes vibrating in the strings of 180 instruments on Valentine's Day.
Every four years, the mass orchestra performance takes place, in which student musicians from grades 3-12 take part.
"It was a lot of fun playing in such a large group and sharing our music with the audience," said sixth grader and cellist Allison Wallinga.
The mass orchestra event brings together musicians of all ages and skill levels. Elementary school-age violinists just learning the basics of bowing and fingering play alongside experienced cellists nearing graduation.
Orchestra leader Laura Haverdink said the Tchaikovsky piece has an unusual structure that makes it a suitable performance piece for a mass orchestra involving students of all grades. Every four years, the mass orchestra alternates between the "1812 Overture" and a similarly structured piece.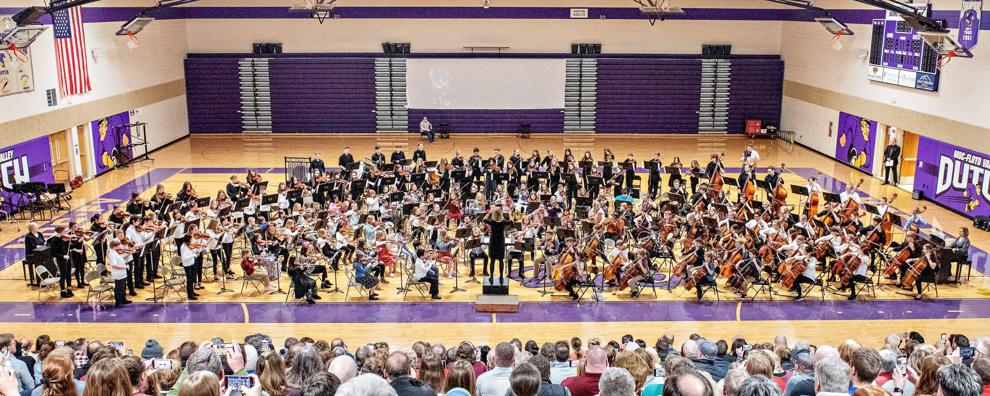 "Usually an orchestral song is written for high school or just for middle school, but these two pieces are structured in such a way that there are very simple opening sections, and then there are middle school sections and then there are advanced sections – all for the same thing song," said Haverdink. "Rarely do you find something written like this."
The "1812 Overture" was composed in 1880 by one of the most famous Russian composers of his time. The piece commemorates the defeat of Napoleon at the gates of Moscow. It begins quietly, then slowly builds to a solemn close, with church chimes and canon-like notes played on the drums.
During the performance in the gym, a 40-foot screen stretched behind the performers, and during the fanfare at the end, fireworks exploded in bright colors against a dark sky.
Senior Amber Hulstein began playing the violin in fourth grade, and she recalls playing in the mass orchestra event in elementary and middle school. This year – her last – she was one of the older students.
"You can see the anticipation in the little kids," said Hulstein. "They're setting up their instruments so they can play and seeing their faces light up and knowing there's fireworks behind us – it's exciting to just bring it all together."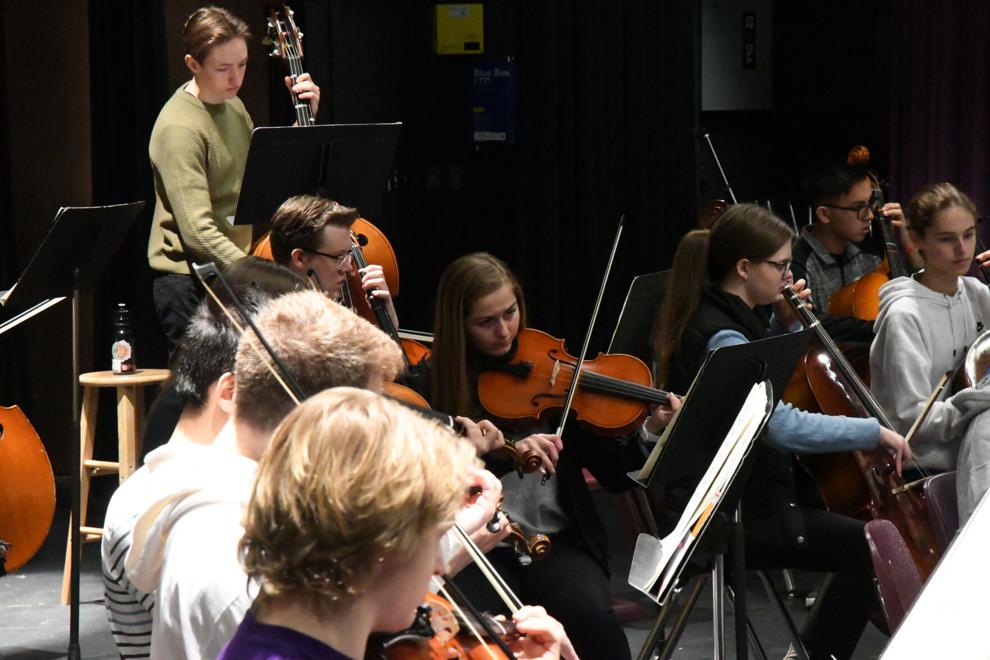 The 15-minute performance featured five percussionists along with the 180 violinists, viola players, cellists and bassists. Performers filled much of the gym floor and the stands were filled with spectators.
"The gym was packed," Haverdink said.
She has been the director of the district's orchestral program for 40 years and inherited the program from Martha Helen Breese, who began managing the program when it was formed in the 1960s. Haverdink commutes between Orange City elementary, middle, and high schools, providing one-on-one tuition during the school day. She is supported by Amanda Lemke, the strings teacher at Hospers Elementary School.
In addition to teaching, Haverdink conducts group exercises for each of the district's schools, and in anticipation of the mass orchestra's performance, students from each school practiced separately on several occasions before meeting for a single class-wide exercise before the event.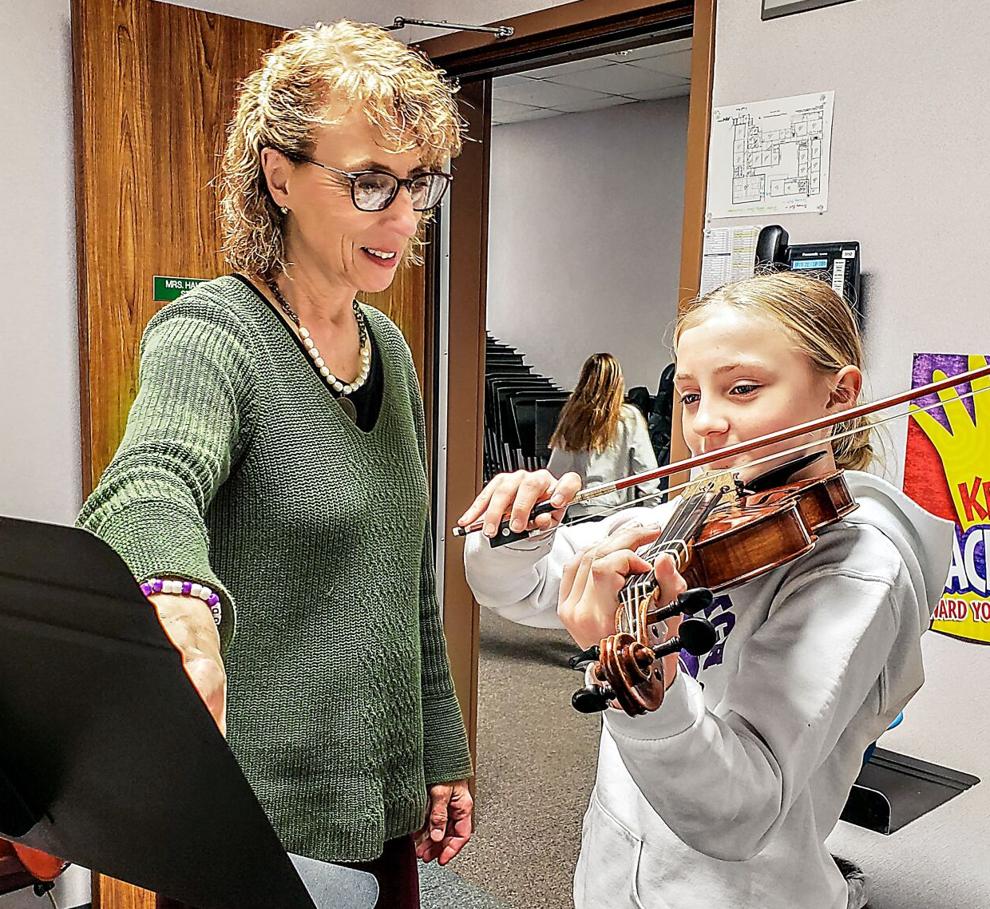 "We have an hour-long practice where we all drive there, and it's always like, 'Okay, you've got to get that together in an hour,'" Haverdink said.
On the night of the performance, the older students help the younger students settle in, calm their nerves, and tune their instruments.
Veteran cellist Brett Van Gelder recalls what it was like going to the gym as a third grader before performing with a mass orchestra for the first time.
"This was definitely the first time we did it with all the older kids, and I remember they all just came over and tuned our instruments for us," said Van Gelder. "That was probably what I remember most."
Senior violinist Alexa Reuter was another of the older students who was tightening and loosening strings on the younger students' instruments this year.
"You see the smaller instruments and it's like, 'Oh my god, I used to play the violin — they were so small,'" Reuter said.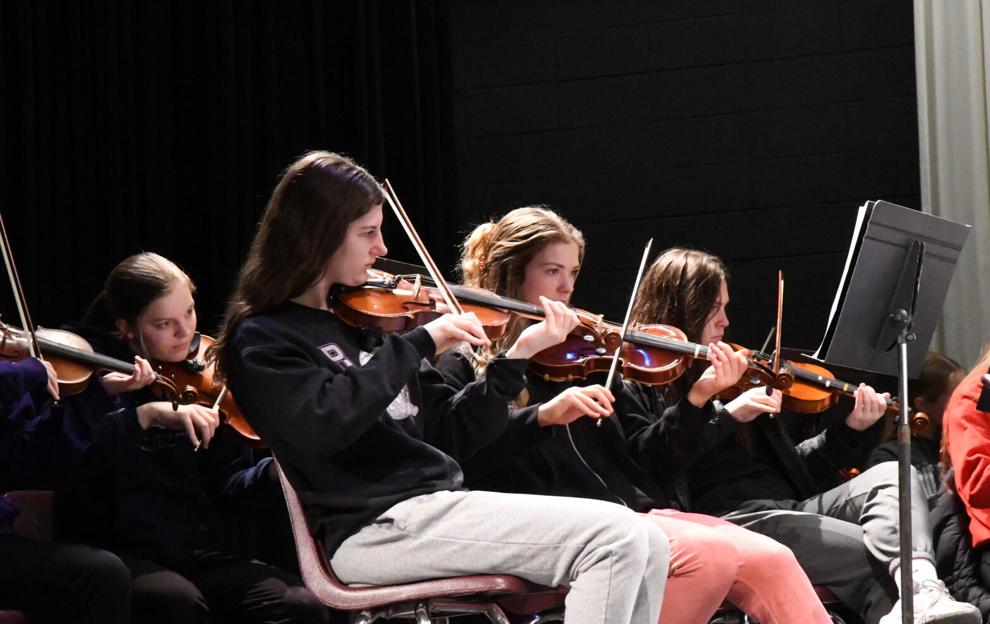 First-time performer Liam Flores-Topete, a fourth-grade violinist, was thrilled to be performing in front of an audience for the first time alongside his friends. His father, who attended the performance, is a musician — he plays in a mariachi band called Mariachi Los Rancheros — and Flores-Topete said his father often helped him practice his violin.
"What was special was that my father, who plays music for people, could see my progress in the orchestra," said Flores-Topete.
"Everyone in the orchestra worked so hard on that one song," said eighth-grader and violinist Anna Koenig. "It's cool how we were able to share it together that night to show our hard work."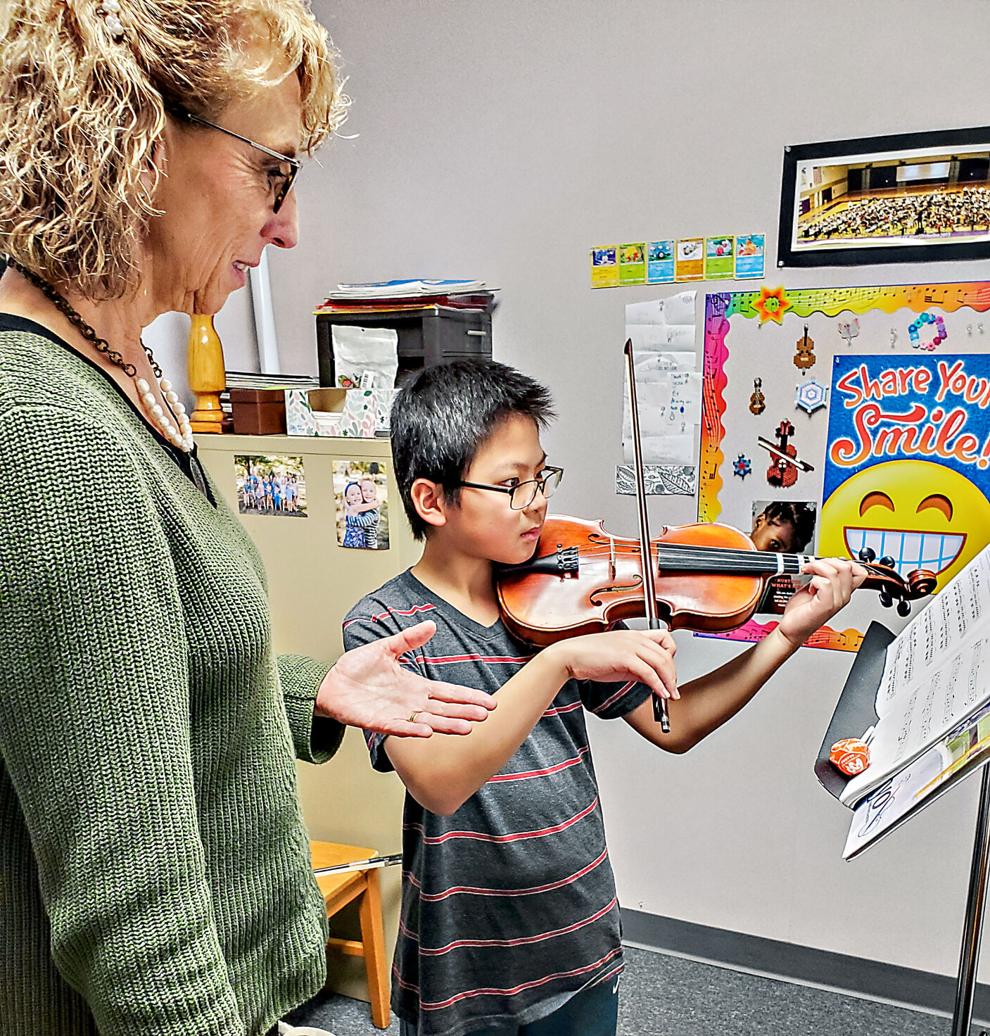 Her brothers, fifth grader Jack and ninth grader Max, also performed in the mass orchestra.
"It's cool to see how music makes us all grow," Koenig said.
For a school of its size, MOC-Floyd Valley is unusual when it comes to an orchestral program, and Haverdink attributes its success to the community that supports it.
"Our community values ​​music," Haverdink said. "The parents and families support their children in everything they do and our administration really supports them – without that we just wouldn't survive."
She said an orchestral performance – unlike many sporting events – is a collaboration involving everyone.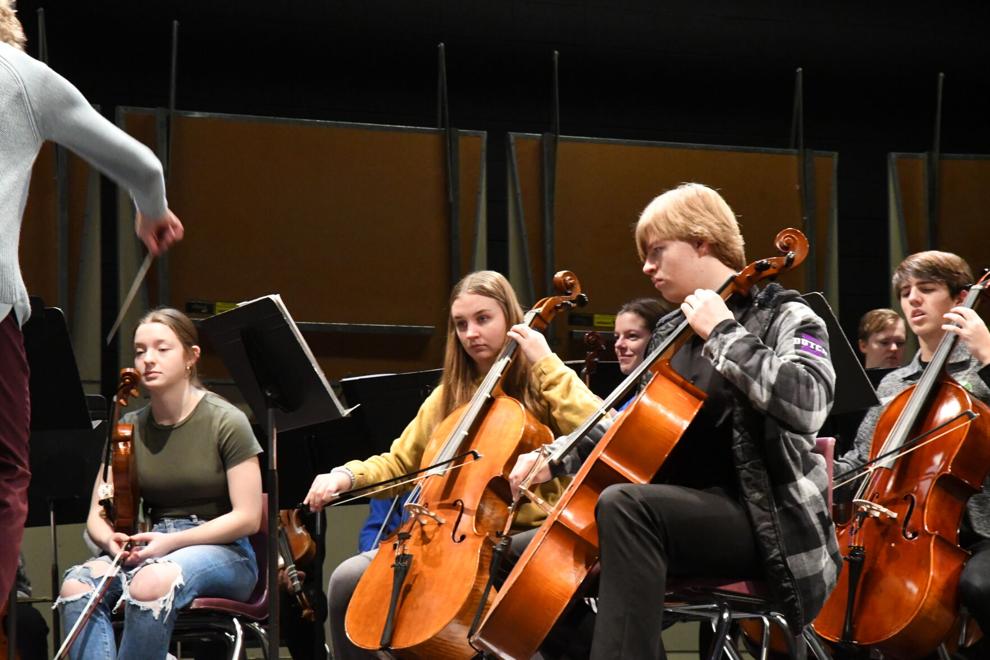 "It was so strong the other night. I saw 185 of them, including the drummers, and nobody sat on the bench," Haverdink said. "We all said, 'We just had the Super Bowl.' It feels a bit like Super Bowl orchestra day, but the difference is that no one was on the bench — and everyone was a starter. Everyone counts."