Increase efficiency and save resources: KHS presents a diverse packaging portfolio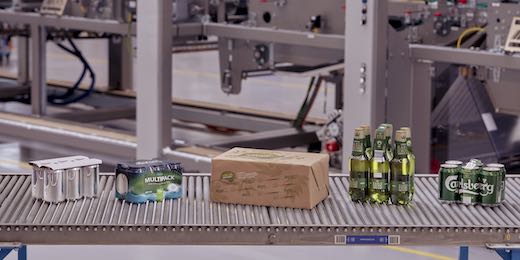 Circular packaging: Further developments for Nature MultiPack
Reliable services: help with carbon footprint assessment
Smart Operations: automatic format changes for beverage can and PET bottle packaging
Line efficiency: high-performance palletizers for greater efficiency
Dortmund/Düsseldorf, – From May 4th to 10th, the trade fair in Düsseldorf will be the focal point of the global packaging industry. At this year's interpack, KHS is presenting its diverse portfolio of resource-saving systems for promoting the circular economy. The KHS MultiPack machine Innopack Kisters Nature will be shown as an example, which impresses with further developments such as a new universal adhesive. With its comprehensive range of services, KHS makes it easier for customers to make decisions by using independent calculation tools that evaluate the CO2 footprint of different types of packaging in a direct comparison. Other technologies such as robots for efficient high-speed palletizing processes and modular automation systems for format changes round off the KHS range at this year's trade fair.
dr Johannes T. Grobe, CSO of the KHS Group, emphasizes the importance of interpack for KHS. "This fair has always been an important meeting point for the international packaging industry. It is a driver of the transformation towards more environmental protection and more efficient production processes. This is exactly where we come in with our holistic systems and solutions and advise our customers on suitable machines that are tailored to their specific requirements," he says.
More Nature MultiPack developments
The tried-and-tested Nature MultiPack (NMP) machine takes center stage at the KHS trade fair stand as a prime example of the wide range of forward-looking packaging systems. As one of the most sustainable secondary packaging on the market, it connects beverage cans or PET bottles with just a few dots of adhesive to form stable packaging – without any additional outer packaging. With material savings of up to 90%, this technology, which has now been consistently further developed, impresses with a new universal adhesive that can be used for practically all external coatings of aluminum and tinplate cans. The one-fits-all system, which is already being used successfully in practice, makes it easier for numerous beverage manufacturers to switch to NMP – because until now, selecting the right adhesive was often a laborious process.
Better informed decisions about climate-friendly packaging
In order to determine which packaging has which effect on the climate and whether, for example, a conversion for a stretch blow molding machine has a positive effect on the CO2 balance or not, KHS has developed various CO2 calculators. This free service was developed together with the Hamburg Institute for Environmental Informatics, a leading international independent software developer for material and energy flow analysis. "Our systems and solutions aim to create continuous added value while reducing the ecological footprint," says Grobe. "The pressure on the packaging industry to be more sustainable is growing – both from consumers and from legislators. In this way, we give our customers orientation and help them make purchasing decisions by directly comparing different packaging systems."
Modular automation systems for format changes
The systems supplier's system technology not only protects the environment; digital services also ensure safer and more efficient production processes. In this context, KHS is presenting its modular automation systems for format changes when packaging beverage cans and PET bottles. The increasing diversity of these container types often requires bottlers to make frequent adjustments at the packaging and palletizing end of their production lines. With the new option for all KHS packers of the Advanced series and PB palletizer models, up to 80% of all manual activities in connection with a line change are now superfluous. This saves operators up to 30 minutes per packaging and palletizing format change.
The new high-performance Innopal PLR palletizer helps to further increase efficiency at the packaging and palletizing end of a line. This combines the advantages of low-feed machines with the capacities of high-input palletizers. With the help of robots, this machine processes up to 625 layers per hour, which corresponds to a nominal output of 135,000 cans per hour, depending on the can diameter. Of course, this machine can also palletize PET containers and glass bottles. The use of robots also simplifies operation and thus significantly increases both the efficiency and availability of production.
"With our diverse portfolio of primary and secondary packaging, we can offer the best system for the most diverse demands and requirements. We are always at our customers' side as a reliable partner who helps them to constantly reduce their energy and resource consumption and to promote the circular economy," concludes Grobe.
The KHS Group will be presenting its systems and solutions from May 4th to 10th, 2023 at Stand A31 in Hall 13 at interpack in Düsseldorf, Germany.