'Oba without a palace': Cuban chief priest blows up as he denies claims of having baby with Kenyan side chic
Popular Nigerian socialite Cubana Chiefpriest has now responded to allegations he has a child with a Kenyan side chick
Recall that popular gossip blog Gistlover shared a post claiming the socialite had impregnated a woman and refused to take responsibility for it
In a new development, Chiefpriest has taken to his Instagram page to end the allegations as he realized his marriage is unbreakable
Popular Nigerian socialite Cubana Chiefpriest has been embroiled in baby-mama drama on social media after allegedly impregnating a Kenyan side chick.
It all started when popular anonymous gossip blog Gistlover claimed the self-proclaimed famous bartender got a Kenyan woman pregnant and refused to take responsibility for it after she gave birth, despite telling her to keep the child.
Gistlover shared a post of the Kenyan woman in question, as well as videos of the baby, as netizens commented on the child's resemblance to Chiefpriest.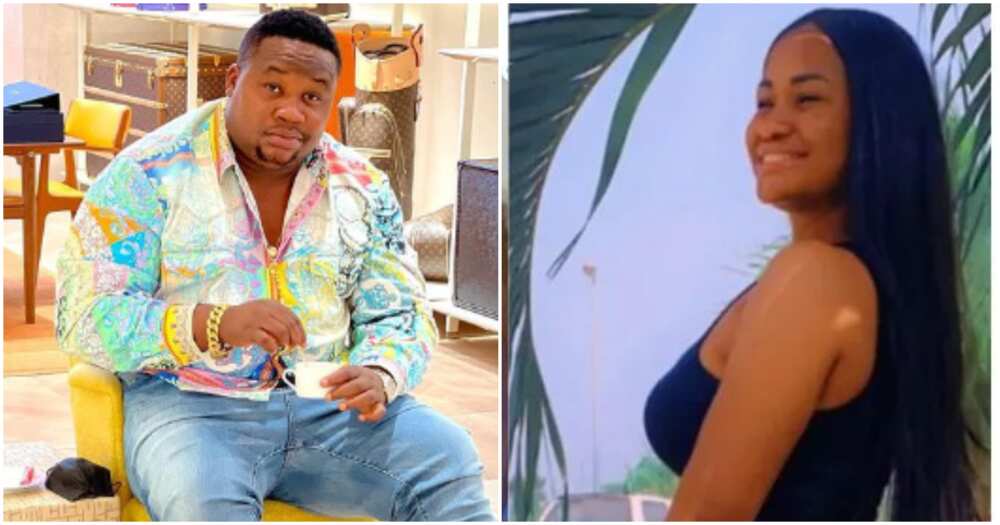 See the post below:
PAY ATTENTION: Follow us on Instagram – get the most important news directly in your favorite app!
Cubana Chiefpriest denies claims of having impregnated a woman outside of his marriage
After Gistlover's post went viral, Cubana Chiefpriest long ranted about his Instagram Stories, where he took to the blog and also denied claims of having an illegitimate child.
Chiefpriest accused Gistlover of extortion, noting that if he really did have a child outside of his marriage, he would be so rich that no one would know.
As if that wasn't enough, the socialite demanded that the anonymous blog pay the DNA bills, and he'd happily double the money in return if the news were true.
According to the chief priest, he cannot have a child in Kenya of all places because he "assembles" his children in Nigeria and gives birth in America.
Cubana Chiefpriest accuses Gistlover of trying to ruin his home
In another post on Instagram, the celebrity bartender accused the anonymous blog of trying to ruin his beautiful home. According to him, the blog has never posted messages about when he built his wife a house, bought her a nice car, bought fancy fashion items, or even took her on luxury trips abroad.
The socialite added that his marriage is bulletproof and his relationship with his wife is built on so much love, respect and loyalty.
See screenshots of Cubana Chiefpriest's posts below:
Netizens react as Cuban chief priest dismisses claims of having a child with a Kenyan side chick
Shortly after the celebrity responded to the claims on social media, a number of netizens shared their thoughts on the drama. Read some of their comments below:
dammythegreat:
"But are you crisp or not? Let's start there."
nekkycutie:
"I like how he challenged jeans lovers to DNA. Watch Jeanslover resort to insults and baseless threats. If he/she is sure, accept the DNA offer. As simple as that!"
meg_danjuma:
"Oba no dey lie. Today to unmask tomorrow to reserved acceptance."
miss__ake:
"Haaaa, I'm pretty sure no sane woman is going to come out and accuse someone like that man of getting her pregnant. Wow oh."
o_b_e_l_e_m:
"Please we should stop promoting this kind of nonsense, why are bad things becoming the norm? This so-called housebreaker, didn't you realize that this guy is married and has kids? The moment women find out that a guy is very rich and popular, they go out and are born for them. "Money is indeed the root of all evil," because no money makes them have an open leg, that is, when the gist is right and the baby is his. Make her take care of her son. Don't force yourself as him to open your leg, don't be forced to accept Pikin either, yeye women!"
sisi_nene101:
"Oga, the Pikin you own!!! See the resemblance.. no dey shalaye."
Nurse Bos:
"You hack at the abi, you don't hack at the?"
__aderinsola:
"If it doesn't do you any good, you start calling Gistlover a liar. When it comes to female celebs, you'll think, o. Everyone castigated Nengi for hearing it. It was the same high priest who dragged Maria in connection with Gistlover. Actresses and artists are not left out, now it's your turn and the lover at the core is a liar. Ema was okay."
oyealadire:
"No need for DNA, this baby also resembles Pascal Oladis in everything you do in this life, try to follow the good man, o."
Cubana Chiefpriest accused BBN Maria of spousal abduction
In other related news, Legit.ng had reported in 2021 that the Cuban chief priest had called BBNaija star Maria and accused her of kidnapping his sister's husband.
A furious chief priest had taken to his Instagram page with a call accusing the reality star of allegedly being involved with his brother-in-law.
In another post, Chiefpriest accused Maria of even going so far as to threaten his sister and urge her to leave the father of her children.
Source: Legit.ng