Venue News for March 2023
We're rounding up the biggest event news of the month – in one convenient place. Do you have a tip? Get in touch!
In case you missed it
This month, the BizBash editorial team has rounded up new event-friendly sections from around the world. So far we've featured 85 outstanding rooms in Atlanta, Boston, Chicago, Dallas/Fort Worth, Miami/South Florida, Nashville, New York and Philadelphia – and many more to come!
Here are six more things to know this month…
1. Hotels celebrate women's empowerment.
March is Women's History Month, and hotels are thinking outside the box to celebrate. One standout idea comes from the 295-room Grand Cayman Marriott Resort, which has launched an "Empowered Women Empower Women" initiative that encourages guests to leave an uplifting, anonymous message this month to share with another traveler. On March 8th, the hotel also hosted a vision board making session with 20 young women from the Frances Bodden Girls Home.
Similarly, in Washington, DC, Canopy Bethesda rolled out its Total Betty campaign in honor of Women's History Month and the launch of the hotel's seasonal boat bar, Hello Betty. The idea is to recognize self-sufficient women in the community — who the hotel calls "Bettys" — who are making waves in their fields. Nominations can be submitted now through March 19th via a Google form, and the winner will receive one night's hotel accommodation and dinner for two at Hello Betty.
Another hotel for the occasion? The 236-room Mondrian Los Angeles, which hosts an art exhibition featuring four local artists, each presenting abstract and sculptural visual art in a variety of mediums that explore themes related to feminism and empowerment. The "Magic Box" exhibition space in the hotel lobby functions as a rotating pop-up art gallery to showcase the artist; The property also offers a suite package where guests can take home an exclusive work of art from the collection.
2. Sustainability and local impact are still hot topics for travelers.
Venues continue to invest heavily in sustainability – like Noble House Hotels & Resorts, which have partnered with Green Seal to continue their eco-friendly efforts. Over the next few months, 13 of Noble House's properties across North America will receive the Green Seal Standard for Hotel and Lodging Properties (GS-33) following an extensive review and site visit. "Now more than ever, travelers are looking for verifiably green travel destinations, with 70% of global travelers more likely to book green accommodation," said Stefan Muehle, VP and regional general manager of Noble House. "Working with Green Seal…allows us to live at the forefront of wellness tourism and act as environmental advocates in the diverse communities our portfolio reaches."
This isn't the only hospitality group striving to make a difference. Kind Traveler – which bills itself as the world's first socially conscious hotel booking platform – has partnered with Visit Greater Palm Springs for a "regenerative tourism" program. To capitalize on the new opportunity, participating hotels in the Southern California city are sharing exclusive offers that encourage travelers to donate a portion of their booking to select charitable organizations. The program can also create unique experiences that involve visitors in local charities, such as B. Nature hikes and cultural courses, as well as sustainability-oriented neighborhood guides.
3. A new partnership aims to simplify the management of room allotments.
Destinations International – the global trade association for CVBs and tourism boards – has partnered with hotel booking company Groups360 to develop an easy-to-use, technically advanced group accommodation solution. Once the product launches later this year, convention bureaus will be able to use Groups360's existing GroupSync online marketplace to manage room block management for large, multi-venue events. The partnership also gives DMOs the ability to add information and images to their listings on the GroupSync marketplace.
"Optimized solutions for destination organizations are here to stay," said Don Welsh, President and CEO of Destinations International. "This new partnership offers our target organization members unparalleled, streamlined solutions to meet the evolving needs of their stakeholders."
4. Hotels invest in restful sleep.
Did you know it's National Sleep Awareness Week? A good night's sleep is a crucial part of wellbeing, and many hotels are working to improve the experience for their guests. For example, at the Madinat Jumeirah Resort in Dubai, a new wellness program includes sleep hypnotherapy and sleep-inducing nutritional coaching, while the spa at the Waldorf Astoria Atlanta Buckhead offers a new "enchanted sleep treatment" to rebalance circadian rhythms, and the Arizona Biltmore in Phoenix, a Waldorf Astoria Resort , has a magnesium scrub and essential oils aimed at restorative sleep. Orlando's Lake Nona Wave Hotel goes even further, offering private access to a certified sleep therapist along with Well+ech rooms hardwired to Bryte's AI-powered restorative bed, and accessories like snoring aids and smart windows to create a create the best sleeping environment.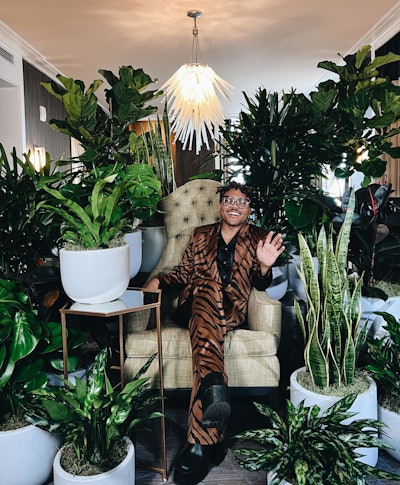 5. Kimpton provides fresh plants that serve as mood enhancers.
Studies show that plants can improve mood and increase productivity – and Kimpton Hotels & Restaurants takes note. The brand is introducing a new global guest amenities program called the Kimpton Plant Pals Program, which will make locally-sourced plants available to guests upon request to enjoy in their rooms. Guests can choose from Kimpton's native plant menu, which is dictated by the location of each property, and choose their plant friend — each with a fun name tag like Morgan Treeman or Snake Gyllenhaal. The program will be launched in April in honor of Earth Day.
6. This venue has significantly improved customer satisfaction with an in-house "Event Experience Team".
Here's an interesting case study of the power of events teams in hotels. Already a popular choice for events, the Marriott Marquis Houston features the largest ballroom in Houston (nearly 40,000 square feet!) and a rooftop Texan lazy river. But last month, the hotel expanded its offerings by introducing its own Event Experience Team (EET), a personalized team for each event hosted at the 1,000-room hotel. The EET aims to bridge the gap between event planning and event operations by allowing team members to attend meetings weeks in advance to ease the transition and provide tailored service. The result? The hotel saw a 20% higher score for on-site event coordination.